About Team 696
FIRST Robotics Team 696, based at Clark Magnet High School in La Crescenta, was founded in 2001 by a group of enthusiastic students who wanted to participate in a Battlebots-esque competition. Instead, after researching existing student robotics competitions, they found FIRST.
FIRST (For Inspiration and Recognition of Science and Technology) is an organization which was founded in 1992 with the express purpose of getting more kids interested in science, technology, and engineering. Since its inception, it has expanded from 15 high school teams meeting to test their robots in a local gymnasium, to a worldwide competition with over 1500 teams in more than eight countries. The FIRST Robotics Competition, in which we participate, is FIRST's flagship program, but in past years FIRST has expanded to bring the wonders of robotics to junior high and elementary school students, with the FIRST Tech Challenge (formerly the Vex Challenge), the FIRST Lego League, and the Junior FIRST Lego League. Now, FIRST inspires nearly 200,000 students worldwide to make their worlds a better place through science and technology.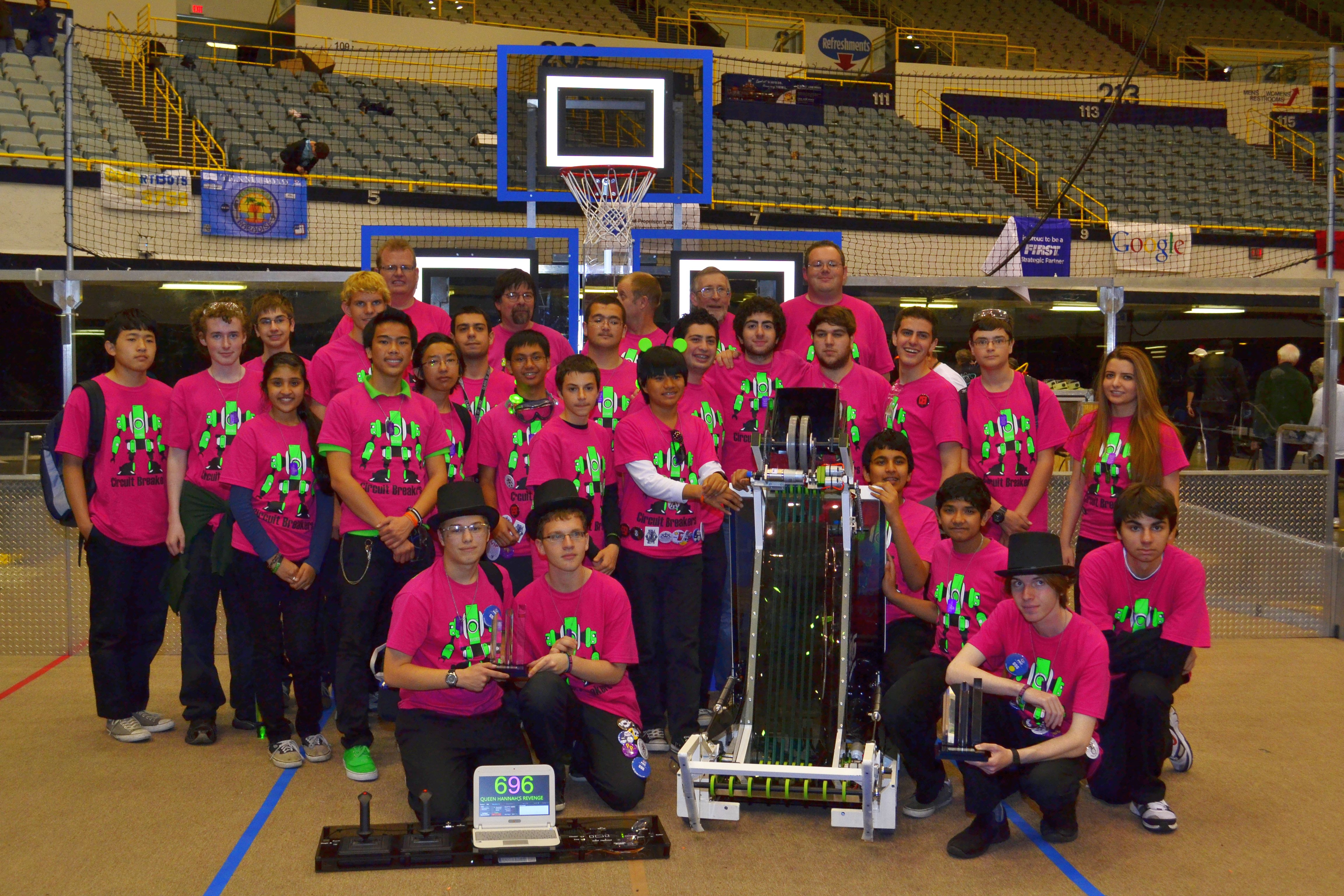 Team 696 at the 2012 Los Angeles Regional
Unlike Battlebots, FIRST robots work together to play a "game" or perform a task. Every year in January, the FIRST Game Design Committee presents a unique challenge, and each team has six weeks to design, fabricate, assemble, and test a robot to meet that challenge. In regional competitions and the international championships, the competition on the field is often fierce, but always friendly. FIRST focuses on teaching students the concept of "gracious professionalism," which emphasizes respecting others, creating high-quality work, and working as individuals and together to make the world a better place.
History
Three years after Clark opened its doors as a science and technology magnet school, a group of students approached Chuck DeVore, a math teacher, about creating a robotics club at school. Mr. DeVore did some research and discovered FIRST. The group of students jumped at the idea of creating robots to do constructive tasks in a competition and formed the Clark Magnet Robotics Team. In our rookie year as a FIRST Robotics Team, we numbered only 13 students, a teacher advisor, and a few generous JPL mentors. Over the years, our student membership has grown, and we have fostered partnerships with many community organizations, businesses, and individuals.
Visit the History link at the top of the page to learn detailed information about each build season, FIRST game, and robot in our history.
Community
Clark Magnet High School draws students from two distinct communities in Southern California, La Crescenta and Glendale. Both communities are distinctly different and, in some regards, opposites. La Crescenta is the smaller of both cities, having a population of nearly 19,000 (Census 2000). Glendale is much larger, on the other hand. Glendale's population was about 194,963 in 2000. It is also interesting to note that about 54% of Glendale's population is foreign born.
Clark Magnet High School is situated in La Crescenta, but it is part of the Glendale Unified School District. The community surrounding Clark is very supportive of FIRST robotics. For instance, the local Glendale Community College allows us to use their machine shop to machine robot parts. Even during the off-season, local shops around Glendale allow us to hold fundraisers to raise more money for the upcoming year. The Glendale News Press and the Valley Sun newspapers have also included us in numerous articles in the past, and the community is fairly well informed about FIRST robotics and our team.
Team Goals
Any student who joins a FIRST Team, no matter their skills upon joining, will leave with a wealth of new knowledge about teamwork, engineering, design, programming, and countless other disciplines. But often, the most important lessons learned are not about the robot. A primary goal of Team 696, as with any FIRST team, is to share with our students the credo of "gracious professionalism," and impress upon them the importance of working with others and being active community members. As Mark Leon of NASA famously puts it, "Do the math. Build a robot. Save the world!"
Season Structure
In order to level the playing field, each FIRST team is provided a standard Kit of Parts, which includes the control components, all motors and electronics, pneumatics, and a kit chassis. Every team is required to use the same control system. However, though the control system and motors can't be modified, this does not mean that the robots are all the same. The variation among robots at FIRST competitions is truly amazing. Though some teams may choose to collaborate on designs, all teams create a unique robot with its own creative design.
The build season, which starts on the first Saturday in January and lasts approximately six weeks, is one of the most intense experiences one could hope to have. The pressure of designing, prototyping, fabricating, assembling, and testing a robot in that short time frame is monumental, but still invigorating and exciting. So many different skills are acquired in the season, and not just those that have to do with a drill press - everyone involved learns a tremendous amount about time management, organization, planning, and teamwork.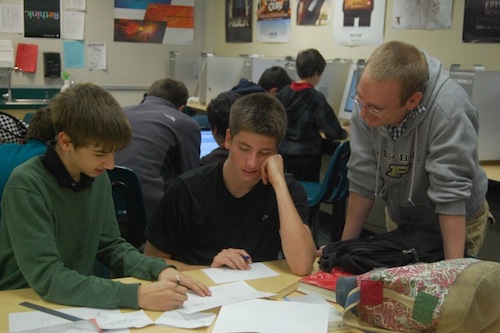 Meeting during the 2011 build season
At the end of the six weeks, teams must ship their robot away to their regional competitions. Between the end of the build season and the competition, teams are free to devise strategies, pack up tools, practice driving, and train "human players," but no one may touch the robot until competition begins. In two designated "windows" in the week following the build season, team members have a few hours to fabricate parts and create programs, but other than those few hours no direct robot work may be done.
After a few weeks, it's off to competition, where we get to enjoy the fruits of our labor! In three long days, each team competes their robot against other robots. Thursday consists entirely of practice matches, where teams can hone their driving skills and get a chance to actually play the game. On Friday, qualification matches begin, wherein robots are ranked according to their performance. On Saturday, the eight highest-ranked teams get to pick two other robots to join their alliance. These eight alliances battle their way through elimination matches, and the alliance that wins gets invited to the international championships in Atlanta.
The 2009 Los Angeles Regional
The FIRST Program is truly an invigorating and inspirational program. Many students' lives have been changed through participation, and we hope to give La Crescenta/Glendale students the opportunity for this life-changing experience for many years to come. To read a few personal stories about how some of our students have been affected by our team and by FIRST, click here.
"Do the math. Build a robot. Save the world!"